Demon Lord of Karanda
This illustration by Geoff Taylor, was originally used on Demon Lord of Karanda, written by
David Eddings,
Original Art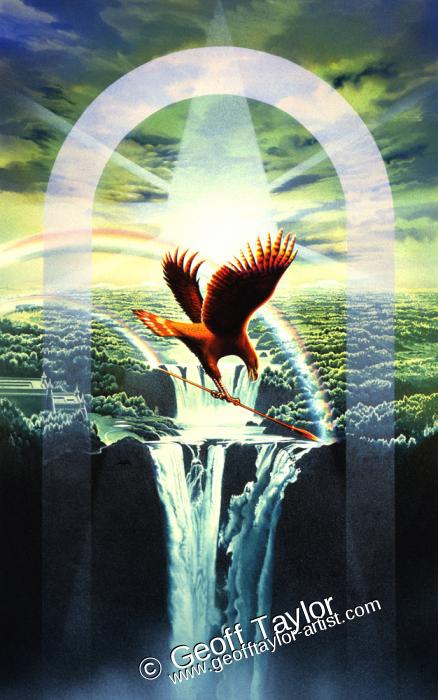 Cover(s)
Selecting these images will provide an enlargement. In some cases the images is of low quality, we hope to improve them when a better image is available. If you can help, or know another instance of the art's use, please contact us.

Description
This painting by Geoff Taylor has a flying bird of prey holding a spear in its talons as the main focus in the painting. A river flows and tumbles down a crevasse. On the banks of the river are woodlands and forests, with a fantasy fort building on the left. A rainbow is starting on the tip of the spear and another on the spear's tail. Light from the sun illuminates the hawk and radiates from it. The composition is encased in an archway of light.

Series
The third book in the Malloreon
Synopsis for Original Title
Demon Lord of Karanda. In this third book of The Malloreon, Garion, Belgarath and their friends follow the quest begun in Guardians of the West and continued in King of the Murgos. It will lead them further into the dark designs of Zandramas and the strange ways of demons. The company now know that Garion's baby son has been kidnapped by Zandramas and is to be used in a terrible ritual which will make the Dark Destiny supreme. The group, however, has been detained by Zakath, Emperor of all Mallorea, and taken to Mal Zeth, the largest city in the world. When a dire plague strikes, they manage to escape and, as prophesied by the Seeress of Kell, travel on to Ashaba - but, although they find Urvon, mad disciple of the evil god Torak, and the Demon Lord Nahaz, Zandramas is gone. In a desperate rece against time, the company turn east once more to follow her spoor...

| | |
| --- | --- |
| Details | Availability |
| | Please Quote Ref: 121 |
1. Where possible the year shown is the actual creation year, though where this has not been available the first known publication date has been used for reference.
2. Sometimes the Medium is listed as Unknown. In most cases this is due to the original being lost or sold. With few records remaining,
3. The Size shown is approximate, +/-1 inch (2.5 cm). If the exact size of the image, and medium is required, please
contact us.