Last Pendragon
Original Art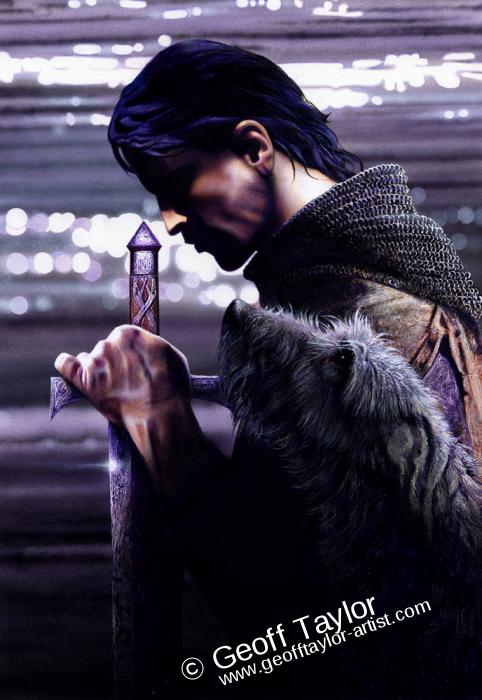 Cover(s)
Selecting these images will provide an enlargement. In some cases the images is of low quality, we hope to improve them when a better image is available. If you can help, or know another instance of the art's use, please contact us.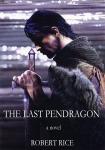 Description
A new cover illustration for the book The Last Pendragon by Robert Rice painted by Geoff Taylor this painting shows a young man, dressed with chain mail his head bent over his sword, Excalibur, and by his side is a wolfhound. In the background diffused water of a lake.

Synopsis for Original Title
A variation on the Arthurian legend, opening as Arthur is mortally wounded in a battle during which he kills his turncoat son Medraut. Near death, Arthur bids the knight Bedwyr to cast the magical sword, Caliburn, into a lake, but Bedwyr disobeys and hides it in a tree. Returning to the British Isles 11 years later from a stint in Rome, Bedwyr meets Arthur's grandson--evil Medraut's only surviving son--Irion. Although Irion begs Bedwyr to help the Britons in their lethal rivalry with the Saxons, the mistrustful Bedwyr refuses and goes off to seek Caliburn, missing from the tree. His quest parallels Irion's desperate attempts to rally forces against the enemy residing in the fortress of Camelot. Robert Rice employs the right magic touches (a magnificent white steed, a damsel in distress, an owl that may be the wizard Myrddin, a hidden cave and a valiant showdown at Camelot) in this winning tale of heroism, glory and romance. Copyright 1992 Reed Business Information, Inc.

| | |
| --- | --- |
| Details | Availability |
| | Please Quote Ref: 719 |
1. Where possible the year shown is the actual creation year, though where this has not been available the first known publication date has been used for reference.
2. Sometimes the Medium is listed as Unknown. In most cases this is due to the original being lost or sold. With few records remaining,
3. The Size shown is approximate, +/-1 inch (2.5 cm). If the exact size of the image, and medium is required, please
contact us.