Storm Chaser (00)
Cover(s)
This cover is used for reference purposes only. Neither the artwork or copyright belong to Geoff Taylor, but instead belong to the publisher/artist. Please do not contact us for Details or Availability.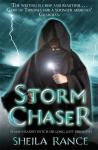 Synopsis
Many years ago, a storm brought Maia to the cliffs. Now she is Sun Catcher in the land of Khandar, but when her father, Tareth, needs silk, Maia must go back to the clifftops she once fled. Danger awaits her every step of the way: assassins, thought-stealers, the Marsh Lord - all greedy for her power. And Razek, who deserted his people to follow her, must pay a high price as he tries to bend wind and rain to his will and chase away the storms.

Description
Illustrations to come here soon.

| | |
| --- | --- |
| Details | Availability |
| | |