Pet Portrait Commissions
Special Pet Portrait Commissions are also undertaken where the painting needs to be larger or a specific background included, the price for this is negotiable. Examples of Special Pet Portraits are Bailey, Mister Bitey, Molly and Tara to name a few. A basic pet portrait would be like Dinky, Bracken, Ellis .....Contact us to discuss your needs.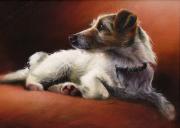 Do you have some favourite photos that catches the character of your pet? All photos sent by post will be returned. Alternatively, if you live locally, please arrange a visit so I can take some photos free of charge.
The signed pet portrait will be painted in acrylics on Artboard and has a bevel mount or mat for protection or ready for framing. See some examples in the Pet Portraits Gallery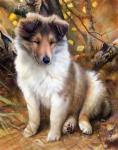 The size of the commissioned painting would be approx A3, 16 x 11 inches , 42 x 29 cm, Landscape or Portrait, with a background included.
£375 GBP.
Larger sized portraits, can be negotiated.
Post and packaging £10 in the UK, or collect in person.
Overseas Delivery, by DHL, a signed for fully trackable postal service, cost dependant on country size and weight.
It should be noted, that unless otherwise agreed, the copyright to the created image remains with Geoff Taylor.